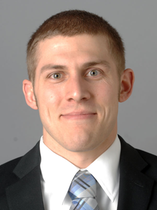 Nate Shearer is in his sixth season as the head wrestling coach at Washington and Lee. Over his first five seasons, he has coached 12 place-winners at the Centennial Conference Championships, including mentoring Ron Tassoni '16 to the 2014 Centennial Conference title at 174-pounds, W&L's first conference title winner since 2001.
Tassoni went on to place third at the NCAA East Regional in 2016, earning the Generals' first NCAA Championship berth in 15 years. Tassoni was also voted the Pres Brown Most Valuable Senior Male Athlete at W&L, the first time a stand alone wrestler has ever received the award.
Tassoni, Brandon Lefore '18 and Alex Pollera '18 all earned NWCA Scholar All-America honors following the 2016 season and W&L received the NWCA Team Academic Award with the seventh-highest GPA in the country.
Shearer coached four place-winners at the East Regional and four at the Centennial Conference Championship during the 2016 season, as both Tassoni and Zach Bylykbashi '19 surpassed the school record for wins in a season.
In 2015, Tassoni and Evan Kueffner '18 both placed third at the Centennial Conference Championships, with Tassoni setting a then W&L record for wins in a season (29-9) and takedowns in a season (95). Lewis and Matt Kaminer '18 both earned Scholar All-America honors from the National Wrestling Coaches Association.
In 2012, Shearer coached David Dennis '12 to all-conference honors, while Sam Campbell earned Centennial Conference Academic Honor Roll and Capital One Academic All-America laurels. Additionally, Campbell and Dennis set records for wins and pins in a season and both were named NWCA Scholar All-Americans.
Shearer came to Washington and Lee from Heidelberg University, where he served as the head coach during the 2010-11 season. He earned the National Wrestling Coaches Association (NWCA) Rookie Coach of the Year Award after leading Heidelberg to a second-place finish in the Ohio Athletic Conference (OAC) Championship. Three of his wrestlers qualified for the NCAA Division III Championship, while four of his athletes received Scholar All-America honors from the NWCA. As a team, Heidelberg received the team Scholar Award from the NWCA after ranking 15th in Division III in Team GPA.
The recipient of a scholarship to attend the NWCA Leadership Academy in 2010, Shearer took over as the head coach at Heidelberg after holding an assistant post with 'Berg during the 2009-10 school year. During that time, he was the team's recruiting coordinator and he helped coach six Scholar All-Americans and four NCAA Championship qualifiers, including one All-American.
A 2005 graduate of Ohio Northern with a bachelor of arts in social studies, Shearer served as an assistant coach at his alma mater from 2005-08, coordinating the staff's recruiting efforts and helping mentor six Scholar All-Americans and 14 NCAA qualifiers. His experiences also included a stint as the coach of the Ada, Ohio youth wrestling program (2005-06) and assisting with numerous youth wrestling camps and clinics.
As an undergraduate, Shearer was a four-year letterwinner for the wrestling team, helping the Polar Bears to the 2002 OAC Regular Season Championship and an appearance in the NCAA Division III Championship. He finished his career ranked 11th all-time at ONU with an 89-44 overall record.
Shearer also holds as master of education in mild/moderate intervention services from Bowling Green State University (2008). In 2012, Shearer was elected to serve as the Division III representative to the NWCA Board of Directors.
Shearer and his wife Jana, a staff attorney at W&L, reside in Lexington with their daughter Nala and sons Knox and Nash.